The Metal Deli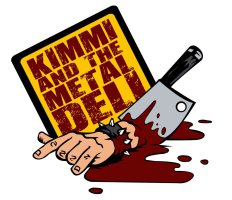 Website

Social
The Metal Deli
In addition to being a mom and a full-time college student, Kimmi Rudolph is the hostess of The Metal Deli podcast, dedicated to giving independent and minor label musicians the chance to get their music heard.

Kimmi's podcasting career began in 2006 as an assistant on the Soupy Gato Show, an all-genre music podcast where she quickly went from being boring secretary to CD Reviewer and occasional co-host/on-air correspondent, known to listeners as 'Kimmi The Fifth.'

Metal and Rock are in Kimmi's blood (she is a self-described metal-head) and the desire to showcase just the music she loved most spurred her on to create The Metal Deli in December 2008.

Kimmi is well known, not only for the music she plays but for her giggly personality and her desire to be as "Kimmi as she can be" -- giving you not just Kimmi the podcaster but the real life version of Kimmi.

The Metal Deli will air on Jivewired Radio each Saturday evening at 7pm CST. You can hear current and archived podcasts on The Metal Deli Website.

Heavy Metal and Hard Rock bands are encouraged to submit for airplay on The Metal Deli via Jivewired.com. There is no submision fee for this opportunity.

Accepted music can be sent to Kimmi via CD (preferred) or audio file.

Please only submit music that fits the genre and feel of the show.

Thank you.
---